Apply Card via SOL Mobile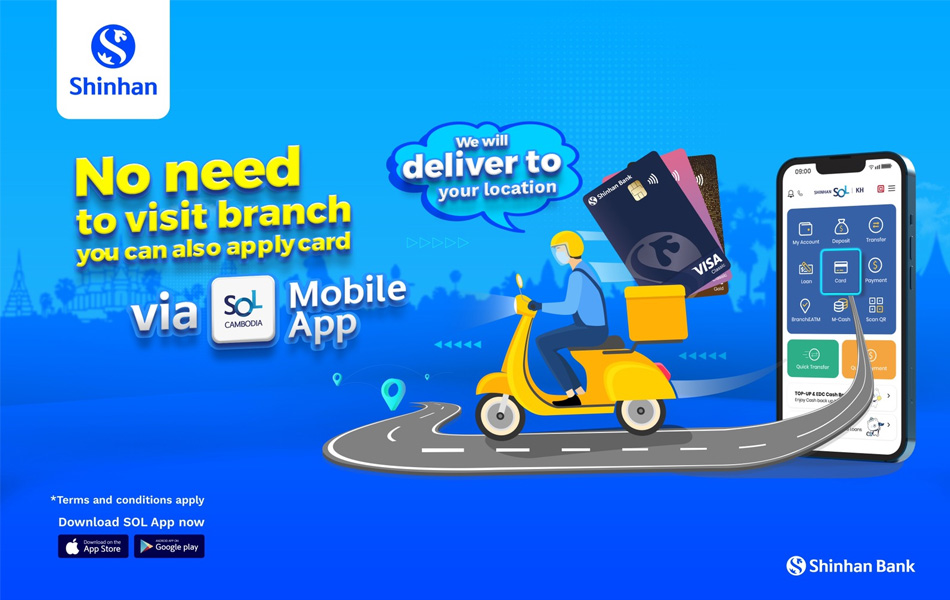 Introduction
Want to get Shinhan Visa debit card?
If you have no time to come for apply Visa debit card, it is no any worry!
You can apply it directly from your SOL mobile with no paperwork and branch visits.
Meanwhile, you also can choose to pick up your card at the nearest Shinhan branch or get the card delivered to you as below locations:
- Phnom Penh: Chamkarmon, Daun Penh, Prampi Makara, Tuol Kork, Dangkao, Meanchey,  Russey Keo, Sen Sok, Por Senchey, Chraoy Changvar, Prek Pnov, Chbar Ampov, Boeung Keng Kang, Kamboul
- Kandal Province: Kandal Stueng, Kien Svay, Khsach Kandal, Kaoh Thum, Leuk Daek, Lvea Aem, Muk Kampul, Ang Snuol, Ponhea Loeu, S'ang, Ta Khmau.
Key Features
Easy application process as it has no paperwork requirements
Save your time by no need to waste much time to visit branch and waiting in queue for apply card
No minimum holding balance for any selected card products
Free for Debit Card issuance fee
Multiple options to get your new card
Card Registration Method
Apply your card through SOL Mobile app within a few minutes as following steps
Step

Card Issuance Processing via Sol Mobile

1

In case new customer, SOL mobile requires to create account first

For existing customer, just login Sol mobile and go to "Card" menu

2

Choose your card type between:
- Plastic Card (Classic Navy, Classic Pink and Gold)
- Virtual Card

Note: Virtual card is immediately use after completely issue.

3

Accept terms and conditions for card issuance

4

Fill in your card information
- Choose a withdrawal account
- Set purchase/withdrawal limits

5

Select Settlement Date

Select SMS service

Choose card delivery method
- Send to me or Receiving at Branch

6

Verify debit card subscription information

Note: If any information is incorrect, please click button "Back"

7

Confirm your card with SOL mobile M-OTP PIN (4-digits)
Card Activation Method
Basically, customer is required to activate card after card registration completed.
Our distribution partner will contact and delivery card to you based on delivery method that customer has selected. After receive card plate, customers can activate card by yourself, just follow a few steps as below:
Step

Card Activation Processing via SOL app

1

Login SOL mobile then click on "Card" button

2

Click on button "Card activation"

3

Input your card information
- Input your card information
- Validity
- CVC (3 digits number)- Card PIN Number

Click button "Next"

4

Set your card PIN number 6 digits (confirm 2 times)

Click button "Enter" to finish the activation process
Do not have SOL app yet?
Download SOL Mobile app today to start using this and many other useful features!
Have any questions?
Visit your local branch or call to us