Amazing deal up to 30% on order via Extrabux.com with Shinhan Visa card!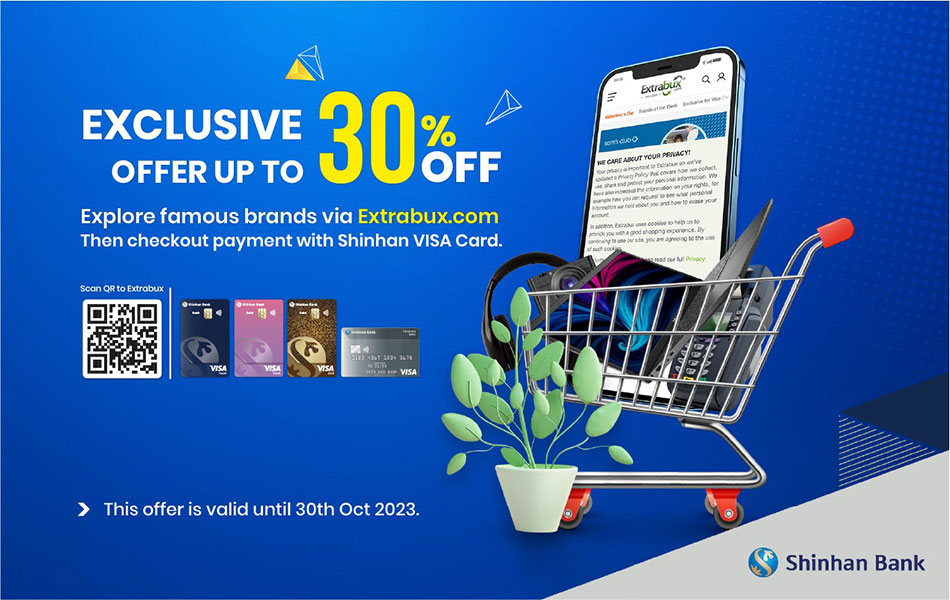 Promotion mechanic
Grab an exclusive offer up to 30% on sale now!
Receive up to 30% off on your purchases for popular items via Extrabux.com when you check out payment with Shinhan Visa card.
You may find various items:
- Beauty
- Food & Drinks
- Sports & Outdoor
- Baby, Kids & Toys
- Clothing & Jewelry & Bags
- Computers & Electronics
- Health - Home & Garden….
Extrabux is a discount aggregator and shopping rewards platform that makes it easy and convenient for online shopping to get a better price at stores you love!
Promotion period
Now until 30 October 2023
Terms and conditions on Promotion
"Extrabux | Visa" Offer is limited to Extrabux members only. Participate in this offer by submitting your Visa card number to enroll your card successfully during the valid offer duration.
"Extrabux | Visa" Offer is applicable to Shinhan Visa debit cards within the valid period, and payments only through Visa network (pay with Visa cards using Paypal is not applicable).
Please refer to the highlighted "Extrabux | Visa" Offer Logo marked on those store cashback pages for whom has participated in "Extrabux | Visa" Offer.
Extrabux doesn't have access to or store your Visa card number. The Visa card number that you submit will be encrypted and transferred to Visa from your device directly. The success of enrolling card depends on the result returned by Visa. Once the enrolling is successful, Visa will only return the last four digits of your card to help you identify and manage it on Extrabux.
If you participate in this offer, it means that you have agreed to authorize Visa and Extrabux to qualify the transactions on this card.
Extrabux members click on the Extrabux cashback link to "Extrabux | Visa" Offer stores. Make purchases with the enrolled Visa card and thus will be able to withdraw the cashback to the same Visa card.
Each Extrabux member can enroll up to 3 Visa cards. The cashback earned by each Visa card will be calculated and should be withdrawn separately.
All the cashback generated by the enrolled Visa card can be withdrawn through other payment methods.
During the Beta version, the minimum withdrawal amount of Visa card is USD10. We will process the request in 5 business days.
Extrabux reserves the right to suspend, terminate this offer, or change the rules of this offer for any reason, without notice, at any time.
If you have any questions about this offer, please feel free to contact Extrabux.
Have any questions?
Visit your local branch or call to us