Introduction
Shinhan Virtual Visa Card is instantly issued via SOL Cambodia app. It has all the properties and attributes of real payment card, but only exist virtually and does not have a physical appearance. The Virtual Card is issued for online purchasing, not applicable use for cash withdrawal or POS transaction.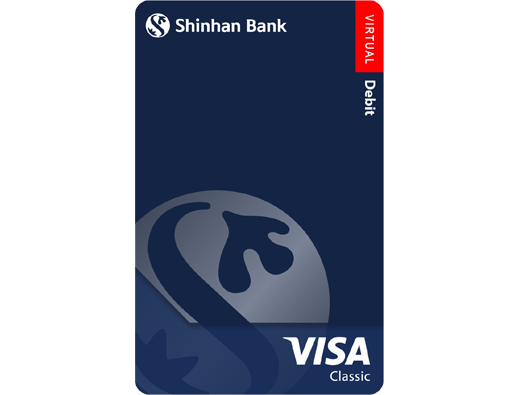 Eligibility
Age at least 18 year old
Existing a Shinhan Bank's account
Existing an user of SOL Cambodia app
Benefits & Features
Convenience
  - Instant issuance via SOL Cambodia App
  - Waive card register and annual fee
  - Quick and easy payment through mobile phone
  - Never have to search for your misplace debit card
Fraud Protection
  - Strongly protect your card information
  - Card PIN is controlled by user
  - Set block and unblock card by yourself
Spending Controls
  - Set card spending limits
  - View the transaction history
How to Create Virtual Card
1. SOL Cambodia Installation
- Go to "App Store" or "Google Play"
- Search for "SOL Cambodia"
- Click "Install" or "Update" if you have installed SOL Cambodia in mobile phone
- Wait until completed
2. Virtual Card Registration
- Log in your SOL Cambodia App
- Click on Card ▶ scroll to the right for Virtual Card Issuing ▶ click on (+) button
- Click on "Virtual card issuing agreement"
- Download "virtual card terms and conditions" ▶ click "Next"
- Set card "Purchase Limit" for 1 day and for 1 time ▶ click "Next"
- Set "Settlement Date" and "SMS service" ▶ click Next
- Input "Card PIN Number" ▶ Input "Card PIN Number" again
- Check and confirm Virtual card registration info ▶ click "Next"
- Input "SOL M-OTP"
- Virtual card issuing completed ▶ click "Confirm"
- Virtual card will be appeared and activated instantly after registration completed
For Virtual card registration process, please
click here
Security Tips
Assure yourself of the reputation of the internet trader before disclosing your card details. To protect the funds, we recommend you to shop from well-know and reliable sites and traders.
Before entering information about your card on the internet, make sure that the address starts with (https://). This means that the entered information is encoded and cannot be capture by a scammer.
Do not respond to an e-mail, in which someone asks you to confirm data about your card or username and password for your registration on the internet.
We recommend you to shop on the internet at websites, bearing the logo "Secure Code" and "3D-Secure" form Visa. These are the most contemporary systems, which provide security upon the transmission of data and payments on internet sites.