Apply My Merchant, Win grand reward up to 88$!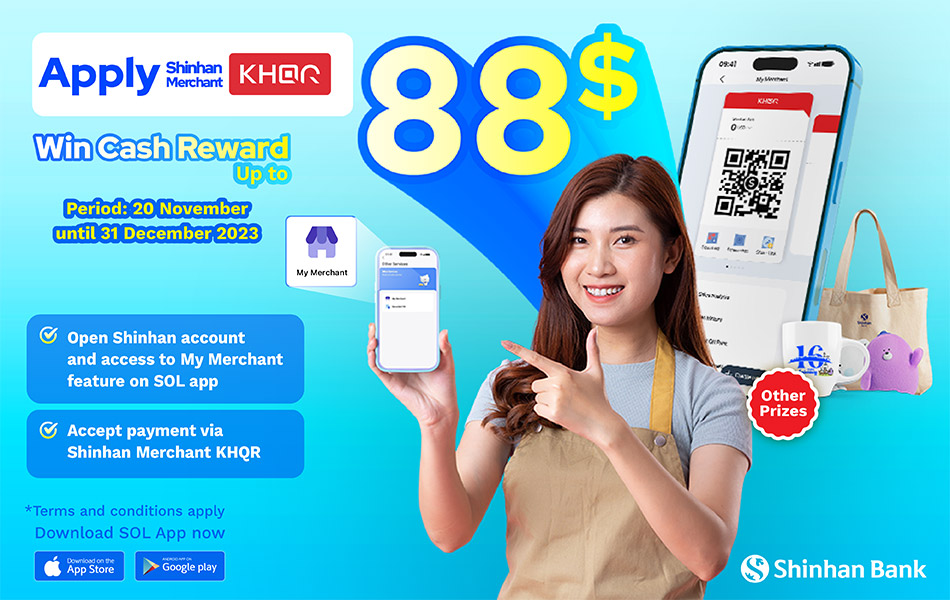 Promotion Mechanic
Year end grand offering from new service "My Merchant" feature!
Enjoy exclusive lucky draw event with rewards up to 88$ with other consolation gift for customer who apply​ Shinhan Merchant KHQR and link to "My Merchant" feature through SOL Mobile; and then, start receiving payment from your customer from 20th November until 31st December 2023.
No having Shinhan Merchant KHQR yet? Let's sign up your own application now to enjoy this fabulous rewards and to support your business management easier, accepting payment faster with further useful​ features!
Read more about benefit of becoming Shinhan Merchant KHQR
Promotion Period
From 20 November until 31 December 2023
Terms and Conditions
Eligible for customer who never register KHQR Merchant at Shinhan Bank by following below step:
a) Register merchant account and successfully access to "My Merchant" feature on SOL Mobile (customer who apply through SOL need to convert their existing account to Merchant Saving account)
b) Received first successful payment transaction through Shinhan Merchant KHQR during 20 November until 31 December 2023
One customer is able to win one time reward only among the 4 rewards
Lucky Draw rewards are offering as following condition:


Lucky Draw Rewards

Prize A: 88USD x 1 winner
Prize B: 66USD x 1 winner
Prize C: 44USD x 1 winners
Prize D: 22USD x 10 winners

Total = 13 Winners


The rewards will be lucky draw to seek the 13 winners and will be credited the reward to winner's account after the event month.
In case customer who completed criteria but doesn't win any reward will receive other 01 prize (Mug or Shopping bag) as eligible merchant will be contacted to pick-up prize at branch after winners are found.
Have any questions?
Visit your local branch or call to us